Responsibility is part of it for us
What does environmental management mean in logistics? Our answer is clear: applicable legal standards are merely a minimum requirement for us. Because we have committed ourselves in accordance with ISO 14001 to implementing continuous improvements for the benefit of the environment. And that's what we do. We are gearing the company headquarters to maximizing energy efficiency and to meeting the passive house criteria.


With the certification according to DIN ISO 9001:2008 we send a clear signal to our customers: our quality management also meets the highest international standards. We care about your food. Certified according to IFS at the Kundl site. You can be sure of that. 
Quality is made by people. We are aware that the quality of the service is directly determined by the knowledge and commitment of the employees. Therefore, we attach great importance to the qualification of our teams and ensure this through regular training.


You can rely on the quality of the vehicles used by Unterer. Always. Why? Because we use only the latest engine technology and replace our entire fleet after 24 months. Because we comply with the EURO 6 standard. For the sake of the environment and following our own conviction.
For consistent environmental management - today and in the future.
It never hurts to build on one's strengths.
Unterer is a member of the TAPA EMEA since 2012. The association TAPA (Transported Asset Protection Association) is a merger of international manufacturers, logistics providers, freight carriers, law enforcement agencies and others, involved in the international supply chain, partners. The common goal is to reduce and to minimize the losses and risks in the international supply chain. www.tapaemea.com

Having joined SEDEX in 2020, Unterer is pursuing the goal of offering its customers maximum transparency with respect to CSR (Corporate Social Responsibility) issues. SEDEX (Supplier Ethical Data Exchange) is a non-profit organization for companies committed to continuous improvement of their socio-ethical behaviour along their supply chains. SEDEX enables companies to analyze and evaluate potential risks. www.sedexglobal.com www.sedexglobal.com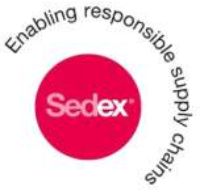 We think there is no substitute for personal contact with you.